Autothenticate

Autothenticate is an extension for Macintosh that notices when Netscape or Internet Explorer visits a web site that requires authentication, and gives you the option to memorize your user ID and password (or just your user ID) and automatically enter that information the next time you visit the web site.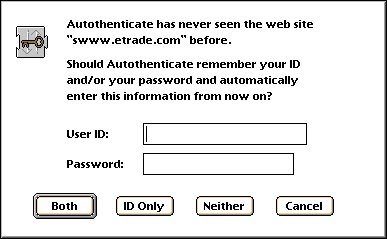 Autothenticate can help keep track of names and passwords for a large number of sites that require authentication, and can automate the login process.
Autothenticate works with Netscape Navigator 2.x, 3.x and 4.0x, Netscape Communicator 4.0x, as well as Internet Explorer 2.1. It has no effect on Internet Explorer 3.0 or later, although it does not interfere with its use.
Whenever you log into a site that requires authentication -- for example, go to the Quote.com site at http://www.quote.com/ and click "Login" -- Autothenticate will ask you if you want it to memorize and automatically enter your ID and password on subsequent visits to the site.
Autothenticate is shareware. Autothenticate cost US$10 (US$8 for academic use) for a single user license. Academic use means you are a part-time or full-time student or educator.
Autothenticate is currently at version 1.1.5 (May 25, 1999).
Support for Netscape Communicator?
As of Oct 13, 1997, Autothenticate supports Netscape Communicator 4.0, Netscape Navigator 4.0, for both PowerPC and 68K! It also works with Netscape Navigator and Communicator 4.5.x.
---
Software Index | Download (84 K) | Register | Read documentation | Version History
Note: downloads will be sent as an .hqx file. Depending upon your browser, you may need to save as text, then drop on StuffIt Expander by hand.
---
Copyright © 1997-1999, by Richard Kiss. All rights reserved. Please obtain permission before using any text or images herein.
---
[email protected]