May We See Your Earthquake Photos Please
I was a student at UCLA during the January 17, 1994 earthquake. A few days after the quake, I went and took some photos of campus before the serious cleanup began. You won't see these pictures in the paper! (Mostly because it's not really news anymore.)
Most damage was concentrated in particular areas. These are obviously not random samples, but rather, carefully chosen photos with the intent to show as much as possible of the destruction that occured.
All photos were taken on the 9th floor of Boelter Hall, the engineering building where I had my office as a graduate student in the math department. Only a few classrooms on campus were damaged enough that they needed to be closed for more than a few days. One of those classrooms was on the 9th floor, on the south side of the building, near the south elevator. Here's the corner of that classroom, coming apart.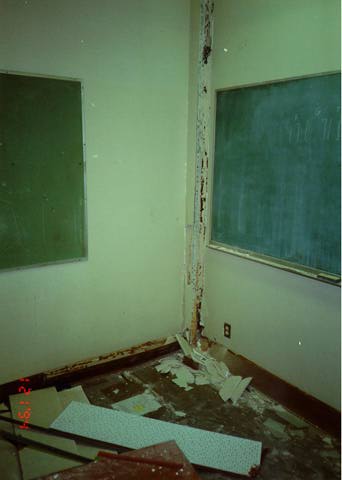 ---
Copyright © 1996, by Richard Kiss. All rights reserved. Please obtain permission before using any text or images herein.
---