Who Is Richard Kiss?
Why are some people terrified by human skeletal remains? Where's the horror? I could easily admit to myself that in essence, I'm simply a mixture of flesh, chemicals, bones & various juices.

- Mike of MST 3K, as Jack Perkins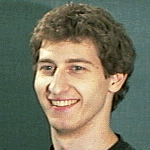 That's me over there.
I've been working for Health Hero Network since March, 1998. Health Hero Networks provides data collection and networking products for patients with chronic illness.
It sounds cryptic. But that's kind of intentional to make it sound more important and useful, and to keep from telling you exactly what it is (since I don't know how well-known it is anyway).
OK, it sounds boring. But so far, I like it. And so far, I don't have to work on Windows, a wonderful plus.
Health Hero Network is a very small company, which is also a very nice change for me.
Some Personal Info In Point Form
Born: yes, in March, 1969
Height: yes, 6' 3.5", or 192 cm
Weight: yes, fluctuates around 205 lbs., or 93 kg
Hair: yes, brown
Eyes: yes, blue
Nose: one
Propensity for idiotic jokes carried perhaps a bit too far: present
I was born in Prince George, British Columbia and grew up in Vernon, B.C. This makes me Canadian. I went to Simon Fraser University and got a BSc. in math. Then I went to UCLA and got an M.A. in math.
I worked for Sony Computer Entertainment (the PlayStation group) in Santa Monica, and relocated to Foster City, near San Francisco in November, 1994. Then I quit, and went to work for Catapult. Catapult was acquired by Mpath Interactive on November 15, 1996, and I worked for Mpath until March, 1998.
I live in Sunnyvale, a stone's throw away from the Apple Computer world headquarters (which, curiously, is in Cupertino), and work in Cupertino. Arguably, the heart of Silicon Valley.
Phew! That was exhausting! I'll bet you feel like you know me now!
Take a look at my résumé online if you're so inclined. It has a lot more information about me, and it's presented in an oh-so professional, impersonal way.
---
Copyright © 1996, by Richard Kiss. All rights reserved. Please obtain permission before using any text or images herein.
---